10 Best Domain Marketplaces to Buy and Sell Domain Names
Are you looking for the best domain name to represent your business online? Just sit tight and read this post carefully to know about the best domain marketplaces to choose and buy a domain name for your business at an effective price.
It is important to get a quality web address because this will work as a powerful online marketing and branding tool for your business. There are many domain name registrars available in the market but some provide domain names with lesser-known extensions at cheap prices and others provide premium domains at expensive prices.
A beginner can't decide which domain name will be right for his business. So, if you are a newbie then take knowledge about choosing and purchasing domain names from web professionals or from the related content available on the internet. This is the first step to making your business online so keep away from making mistakes that may be harmful in the future.
Here, we are explaining the 10 best domain marketplaces to help you in choosing the best domain name to create a website for your business and spread your brand online.
Best Domain Marketplace
1. Domain.com
Domain.com is on the top of our list of best domain name marketplaces that provide domains with .com extensions for only $9.99. This has more than 300 extensions available to match every kind of business. Its interface is user-friendly and anyone can get their domain name in seconds.
You just need to enter your pre-selected domain in the search bar of domain.com. It will provide all available domains with their prices. If your preferred extension is not available, then you can also choose from all other available extensions at cheap prices.
You can try with a different domain name to get the best extension for your business. Here, you will get competitive pricing for TLDs for premium domains specifically.
Essential features of Domain.com:
More than 300 extensions at good prices
'Privacy+Protection' with every domain
Easy to use domain registrar, especially for beginners
Professional email for your domain to increase productivity
Top-quality support to solve problems instantly
2. Namecheap
Namecheap is a well-known domain name registrar to provides a domain at an effective price. Its graphic user interface is very good and easy to understand. This offers protection for the domain for just $19.88/month. You can search for a domain name and purchase from this platform easily.
It provides a feature to register and transfer a new or existing domain. The very popular extension '.com' is available here for only $5.98. This has a special feature called 'Beast Mode' by which you can generate a domain by applying filters of the price range, and popular extensions.
It provides a 'Domain Name Search' tool to get a domain name for sale in a domain auction. When you buy a domain name from Namecheap, you will be away from upsells. This has an easy management panel that anyone can use it.
Essential Features of Namecheap:
The domain management panel is easy to use
A support team to assist you with any issue.
This helps to boost your business
Provides security to your website to keep the internet open and safe
3. Sedo
Sedo is the best domain marketplace available on the internet. This marketplace is the best option to sell and purchase a domain. It conducts online auctions to sell unused premium domains. If anyone wants to get a high-quality domain for their website, Sedo provides lots of options to them.
It provides an ideal web address for startups and beginners. In addition, this provides extra security features for brand protection. You can also do domain name research based on the requirements of your business.
Essential Features of Sedo :
Online auction for sale and purchase of domain
Allows domain name research
Provides ideal web address for startups
Creates presence of new products online
Trading of internet domains
4. Network Solutions
Network Solutions is the world's first domain registrar which has been giving services for 25 years. It is trusted by over 500 companies. This provides all popular domain extensions like .net, .org, .com, .in, etc.
You just need to enter a keyword in the search bar and hit enter to get the list of all available premium domains. It also offers the domain names which are about to expire and you will get a notification when this domain name will be available.
Network Solutions provides premium domain names which cost higher than the other domain names. Apart from domains, it provides all essential tools and software like Hosting Services, Website Builder, SSL Certificate, and Professional Email.
Essential Features of Network Solutions:
Provides popular extensions like .com, .net, .org, etc.
Easy-to-use interface
Trusted by over 500 companies
Provides Essential tools and software like Hosting Services, Website Builder, SSL Certificate, etc.
5. GoDaddy
GoDaddy is the well-known domain name marketplace which provides featured domains with popular extensions like .io .com, .in, .org, etc. It offers domain names with free privacy protection to its users.
It has a Discount Domain Club to make some profit through domain names. You can join this club to get amazing deals on the hottest domains of the market. This platform allows you to easily buy a domain at a low cost and sell for high.
If you want to get used or expired domains, going to GoDaddy Auction is not suitable for beginners. It provides lots of features with domains at a very high price.
Essential Features of GoDaddy:
Free privacy protection
Easy domain setup
Over 500 domain extensions are available
24/7 customer chat support
6. Afternic
Afternic is best domain marketplace to sell and purchase domains easily. Its interface is easy to use and a beginner also can use this without any hassle.
It provides a domain with over 500 extensions at an affordable price. To sell a domain, the listing process of Afternic is so easy that you only need to signup and list your used domains to sell at higher prices.
Essential Features of Afternic:
Easy to user interface
Popular extensions available
The selling or buying process is fast
Best platform for beginner
7. Flippa
Flippa is the best domain registrar to sell and buy domain names, businesses, and whole websites. You will not believe that sellers list their businesses to get high prices through an auction or direct purchase.
If you are a beginner and can purchase the best domain name for business without seeing the price, So you should take part in an online auction of Flippa to bid for the best domain name.
Flippa has a secure service of payment and transfer of domains and businesses, so you can do a checkout with full confidence.
Essential Features of Flippa:
No.1 marketplace to buy and sell domain names and businesses
Secure payment and transfer feature
Easy-to-use dashboard
Best for beginners to be the owner of the high-profitable business
8. DNForum
DNForum is an online community where both buyers and sellers visit to trade by listing domains, offers, and discounts. With the help of a broker, you can easily find a suitable domain name for your business.
To use this platform, you need to register for an account and become a member. It has also a chat feature to talk with sellers to grab the deal.
Essential Features of DNForum:
Free online community
Instant replies from buyers and sellers
Easy chat feature
Buying and listing are so easy
9. eBay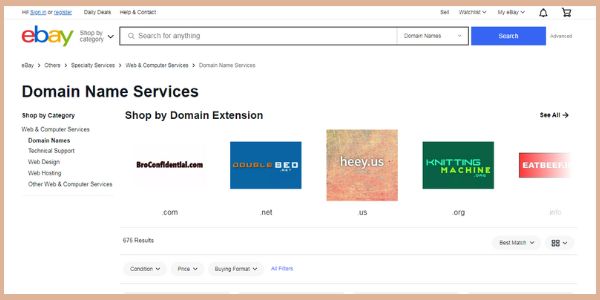 eBay is now becoming a growing marketplace to sell and buy domain names. I know you don't believe this, but it is true that there is a different section for domain names on eBay.
Thousands of domains are listed on this platform by the sellers with all extensions like .com, .net, .org, and many more.
For beginners who want to purchase a domain, it's as easy as buying all other products and the payment process is also the same as before.
Essential Features of eBay:
An entire section for domain names
The checkout process is so easy
Easy to use interface for both beginners and professionals
Provides domain extensions like .com, .net, .org, .info, etc
10. Bido
Last but not the least, Bido is the best domain marketplace with less crowd where you can sell and buy a domain for your business. It sounds different, but sometimes lots of choices of domain names can get you confused about choosing the best one.
Bido works as an online community so anyone can talk easily with their desired seller to grab a deal. Sellers can also list their domains easily to get the best prices by selling.
Essential Features of Bido:
Smaller marketplace with the smaller crowd
Sellers and buyers can easily talk to each other to complete a deal of domain name
Easy to list domains to sell
The interface is easy to use
You may also like:
Conclusion
In the end, after explaining the 10 best domain marketplaces, we will strongly recommend Domain.com. It's not because it tops our list, this is because of the exciting and useful features provided by it.
So, you should also use these platforms to get the best domain name to create a successful business and earn extra money by selling unused and expired domains.
We hope you enjoyed this information. We will be back with our next topic.
Frequently Asked Questions
What do the best domain name marketplaces actually mean?
Domain name marketplaces mean online platforms to buy and sell popular and premium domains through direct payment or auctioning.
Can we sell domain names for free?
Yes, it is possible because most of the platforms charges listing fees to sell. But if someone approaches you directly to buy a domain name, then you don't have to pay any kind of fee.