How To Sell On eBay: Step By Step Guide For Beginners
Do you have lots of unwanted stuff in your home like furniture, auto parts, machinery equipment, etc. then you can sell on eBay these unused items to get some money? Yes, eBay is the platform to sell unused items through auctions or fixed prices.
You might think there are lots of platforms available and we choose eBay all over that. It is because eBay is the world's most popular platform for easily selling unused items. Apart from unused items, this provides an opportunity to set up an online store to sell new and fresh products.
According to the report, eBay has 159 million active buyers worldwide. While Amazon has a 9.7 million seller account, eBay is ahead with 19 million sellers. For beginners, it is not easy to start selling on eBay without knowing complete guidelines like how to set up an account, create listings, manage inventories, etc.
So, we are here to provide step-by-step guidance to sell on eBay. The steps are very necessary to be read carefully because we are providing it with our complete research.
Steps to Sell on eBay
Step 1: Do Research
Yes, you heard it right, research is very important to know what type of products you can sell on eBay.
So, the products that can be sold are:
Mobile phones and accessories
Video games
Computers and tablets
Musical instruments
Cameras
Clothing, and accessories
Jewelry
Watches
Toys
Collectibles and antique items
After knowing the products, you need to know the charges and taxes of eBay to set up an account and complete a sale. So, choose wisely if you are suitable with charges and taxes.
You want to sell products to get some profits, so it is necessary to get detailed information that how much margin you will get from selling different types of products.
There are many other things to do research about it like where you can sell products to earn more profits if you have no unused items so from where you will get the supply of products.
So, after research let's move to the next step.
Step 2: Learn the Basics
To sell on eBay, there are more things you need to know about them. You don't need to invest in buying products to sell to start an eBay business. You can sell the unwanted stuff which can be found in every house, so just make sure you don't need that product now.
For creating an account, eBay offers a free plan to start your business with an account but you will not be able to use extraordinary features without paying. If you are a beginner and want to analyze the market with driving some sales then a free seller account is best for you.
In case, if you want to expand your market to reach a large number of customers worldwide then you need to pay subscription fees monthly, quarterly, or annually.
So, after making a final decision to start an eBay business, let's take a look at the popular business models:
Wholesale: This model is widely used worldwide. In this, the business owner buys the product of another brand at cheap prices to sell by adding some prices.
Private label: In this model, a business makes its own brand and promotes it by advertising. So they sold the products of their brands.
Drop shipping: When an eBay business holder purchase products from that manufacturer which fulfills all tasks to ship a product directly to the customers, then it is called drop shipping.
Now you know how popular business models work, so it is compulsory for you to choose also for you. If you can spend time and money to do all the tasks like packaging, labeling, and shipping then do it by yourself.
On the other hand, if you are a beginner and have a financial crisis then you can outsource all these tasks to eBay by paying a fee. Just select your products to sell that may be unwanted items from home or new items from the manufacturer.
Step 3: Set Up a seller account on eBay
Setting up a seller account on eBay is so easy. Just follow the listed process to do a complete setup
Register for an account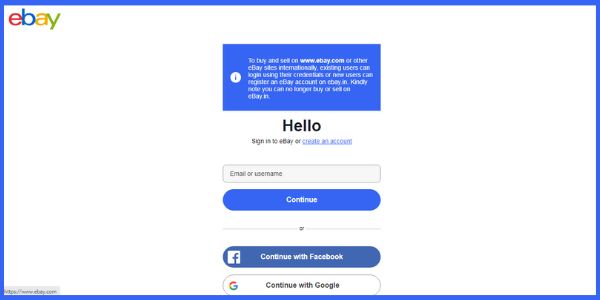 eBay offers to create a free account. So, to create an account visit the official website of eBay from your mobile or desktop, and then click on the "register account". Now enter a valid email and password to complete the signup process.
We want to remind you that eBay offers to create personal and business accounts based on your requirements. If you have a small number of products to sell, then a Personal account is enough, otherwise for a large number of products choose a Business account. You have to enter a valid I'd which reflects your business with all other details.
Set payment method
After registering for an account, set your payment method to receive commissions, payments from customers, etc.
eBay provides these payment methods to set up your account:
PayPal
Checking account
Credit or Debit Card
We strongly recommend choosing PayPal because it can manage to send and receive payments in currencies of all countries. When an order gets completed, eBay will charge fees for every sale and send payments to customers who canceled their orders.
Step 4: List your Products to Sell on eBay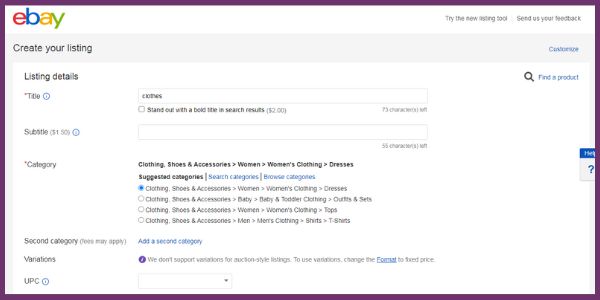 Believe me, listing on eBay is so easy from a phone rather than a desktop. So use your phone and start listing. Go to the latest sold items and take the idea from them by clicking on 'Sold one like this'
For a listing, you can create your own style or can copy other sellers' style which includes title, description, images, weight, shipping address, customer reviews, etc. So in my opinion, if you want to grow and look different from others, you should create your own style.
If you are a beginner, you can copy only the style, but you have to edit the title, description, images, and all required things on your own. The description should be proper and match the condition of the product if it is used or new.
After you have added all the required information you have to choose from the pricing options that are 'Auction' and 'Buy it Now'. So for your knowledge, When you choose Auction then you will get the highest amount put by a customer. On the other hand, With the 'Buy it Now', you can fix the suitable price of your product.
Now, after setting up the pricing options click on 'List your items'. When your product will be live, you will get an email and it will get sold when a customer searches with a specific keyword and gets your product and finds it desirable.
Step 5: Manage your Listing
After getting an email of the listing got to live, your work is not finished here. You have to check what customers are asking questions about your listing or its pricing. It is necessary to answer them by clicking on 'My eBay' in the top right section.
When you answer the queries of all customers, it is helpful in creating a good image of your business, so customers will see you as trustworthy.
Now, You have to pay attention also to those things which can actually increase your business reputation.
So let's see what are those things.
First of all, the pricing of your product will be competitive
All listed products should be available in stock to get a sale
You should keep tracking your product regularly to ship product on time
Answer all questions about the order shipped to the customer
You can ask customers to give positive feedback
We believe, these easy and small actions can really turn your business from zero to the top. So, work hard and give some time to your sales.
Step 6: Source your Products
You can source products to sell on eBay through Alibaba, retail stores, garage sales, and local thrift stores.
The process of sourcing from Alibaba is so easy, just find suitable products to sell, check their prices and quality, and review customer feedback. Do the payment and select where you want to get the product that is in your home inventory or if you have other space to manage your inventory.
And, if you don't want to get products from other countries so you can check the retail stores which are offering products at discounted prices. Purchase these products and list them on eBay by adding some money to get some profit.
After lots of finding, if you aren't able to get new products or don't have money to spend on them, so you should go to garage sales. It means you are selling products by collecting them from houses.
All houses have some unwanted or used products and those products are required by lots of customers on eBay. So it creates the best opportunity for you to start your business with garage sales.
There are also some thrift stores available in every area of society where they collect all the used items. Some products can be in mint condition and you can get better profit by selling them on eBay.
So, go check out these stores and find some good-condition products and purchase them from there. List all these products with proper images, do some cleaning of these products, remove scratches if removable, and write a description of the product for the exact condition.
Step 7: Promote your eBay listings
Promoted listings can help you to get more sales and more profits. So, this is very necessary for every business holder to promote their listing on eBay. You might think it costs too much like Amazon, but believe me, it is totally different from Amazon. The setting up of promotion of listings on eBay is also easy.
You can easily promote by selecting "Sell it Faster" from the bottom section of the listing summary. Enter the ad percentage of your product to promote it. If you are unable to set accuracy or think it may be higher, so eBay suggests less percentage based on the condition of the product. You don't need to add keywords and parameters for promoting the product.
After selecting the ad percentage, the amount will be deducted from your account only when a customer purchased through the promoted listings. If they only click on them, there is no need to pay any fees to eBay. This thing I got more comfortable with than Amazon.
So, in my opinion, you should promote your listing because it really helps to get a higher rank in the search results and visible to more customers.
Step 8: Start shipping Products
Now, when you get the sale you will get a notification on your email. By clicking on the notification you have to enter all the details to ship a product. So ship your product by adding a label, tracking information, and shipping address.
All things you can get easily except labels. So, you can get your labels through eBay by just adding the weight and dimensions of the products. These labels can be easily received on your computer through email and printed by the printer.
Safety packaging of a product is very necessary to ship product in the same condition as was in sold. So, you should have all the packaging stuff while packaging different types of products. The boxes and wrappers for shipping can be easily got from eBay or online stores. The product should be completely packed outside by taping or polythene wrapping.
Once you have done all the packaging by adding the label, tracking number, and shipping address, Now ship this product on the accurate date that was shown on eBay to the customer. Shipping on an accurate date gives customers a good user experience and makes your business trustworthy.
For shipping, you can reach out to the carrier or courier services or request them to pick up your product. After shipping the product, check the listing of the product as shipped.
Some strategies to sell on eBay
1. Signup for the eBay store
eBay provides a free account for beginners to sell their unwanted items. It is very helpful for people who can't spend money on selling. I have also taken the advantage of a free account and sold lots of products. But I realized that we can't use additional tools and lots of features without paying.
So, I think to get a subscription to the eBay store to use all their extraordinary features and services. You should also get a subscription if you have derived lots of sales from your free account.
With a subscription, you will get features like:
Promoted listings,
Additional tools
Display your products as featured items
Get a discount on seller fees
2. Sell on Amazon
As we know that Amazon is the world's most popular marketplace to sell products. It allows you to sell your products to every customer in the world. Its FBA program helps to store your products and do all other tasks to complete shipping to the customer.
So, you can also take advantage of Fulfillment by Amazon to store your products in international countries to complete the order there. By completing international orders you can earn money in amounts that you have never thought of before.
3. Join Reselling Groups
Now, it is time to use social media platforms like Facebook, Instagram, and Twitter to get some tips and tricks to sell on eBay. The tips and tricks are very necessary for beginners to get some idea of reselling of products on eBay to earn extra money.
There are lots of groups available on social media which make posts for reselling tips. Believe me, those tips will really help to increase your sales on eBay. If you are not satisfied with that tips you can join paid groups b paying some fees which give real and helpful tips that actually work.
You may also like:
Conclusion
In the end, all the detailed information will help you to sell on eBay. Just follow these steps carefully and with full discipline. If you really want to sell unwanted items from your house, garages, etc. you should start selling on eBay because it is so easy than other platforms available.
It costs nothing while create creating an account on eBay and also gets a very low percentage from your promoted listings when a customer completes the purchase. For beginners, it is very useful to start selling a business without spending lots of money.
So, if you are also interested don't waste time, set up an account, list products, and start earning money.
I hope you enjoyed this post. I will be back with detailed information about the next topic.
Frequently Asked Questions
What products can be sold on eBay?
You can sell here unwanted items like:
Mobile phones and accessories
Video games
Computers and tablets
Musical instruments
Cameras
Clothing, and accessories
Jewelry
Watches
Toys
Collectibles and antique items
Which is the best payment method to set up an eBay account?
We strongly recommend choosing PayPal because it can manage to send and receive payments in currencies of all countries. When an order gets completed, eBay will charge fees for every sale and send payments to customers who canceled their orders.
How eBay is different from Amazon while creating an account, listing products, and promoting listings?
I know that eBay is not as complex as Amazon. When we create an account on eBay, it looks simple and anyone can enter the details. On the other hand, Amazon requires some extra information. So people can be afraid to enter lots of their personal details on the online platform.
This thing is the same as we list the products on eBay. To promote a listing on eBay, we can set a percentage on our own and it will deduct from your account only when the customer will complete the purchase through the promoted listing.
On the other hand, Amazon costs too much while creating accounts, promoting listings, and getting some commission also when products get sold.